The idea to take a fly fishing trip to Christmas Island was conceived while feasting on a platter of select stone crab claws at Joe's Stone Crab in Miami. I was with my wife, my good friend Steve and his girlfriend Kristi. A few days earlier Steve and I had gone fly fishing in the Everglades for snook, redfish and tarpon. We had had a pretty good day and the salt water fly fishing bug had taken a firm grasp on both of us. Fast forward to Joe's. Throw in a couple bottles of good wine, a huge platter of selects, the fact that I had just taken down a pretty decent size office football pool and the fact that the girls seemed supportive and a brilliant plan to spend a week hunting bones and trevally at Christmas Island was born.

Christmas Island is about 1300 miles south of Hawaii just north of the equator. To get there there is only one option--an Air Pacific flight from Honolulu that stops at Christmas Island on Tuesdays before continuing on to Fiji. Thus all trips to Christmas Island are a Tuesday to Tuesday affair. We decided that January 29th through February 5th would work. There are three fishing lodges at Christmas Island; The Villages, the Fly Water operation that everyone seemed to refer to as Rick's Place, and the Captain Cook lodge. We chose The Villages because it was the newest, had both hot water and ac and because it is located on the lagoon side of the island so we could walk to the boat every morning without the need to first take a truck ride to the lagoon. These all seemed like pretty good reasons and in the end we think we made a good decision and would certainly go back to The Villages on a return visit.

Once the logistics and booking were worked out I began preparing my gear for the trip. I started out with a trip over to Fish First in Albany to talk to Leo. This turned out to be a great move as I would come to find that Leo is a serious Christmas Island veteran having visited the island a dozen times. If you are in the Bay Area and are considering going to Christmas Island you should start by going to see Leo at Fish First. Leo showed me what flies are needed for both bonefish and trevally, showed me a map of the island and made some recommendations as to spots we might suggest to the guides we'd like to fish (including the Korean Wreck which would prove to be one of our best days), sold me all the right materials to tie flies and even loaned me a few back up rods in case one of ours broke (which one did).

I decided that I would tie all of Steve and my bonefish flies for the week so I got to work tying a couple dozen each night in the weeks leading up to the trip. I ended up tying about 200 which is certainly more than two people need for a week. After weeks of planning and excitement it was finally time for the trip. Steve was flying in from Miami so we met Monday night in Honolulu. The picture below is of some of the bonefish and trevally flies I brought.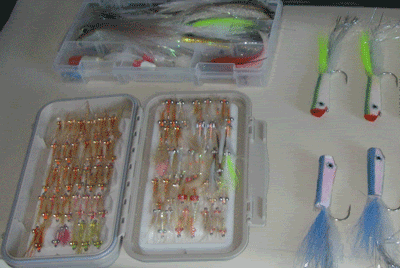 The next morning we headed off to the airport and boarded the Air Pacific flight. There were about 8 other anglers going to the island while most of the passengers were continuing on to Fiji. The flight is just under three hours and the photo below is of our first view of the island from the plane. I think the spot below is actually Paris flat on the inside which is where the bonefish spawn each full moon and a spot that many people fish the three days leading up to and three days after each full moon although we heard rumors that the government is considering closing the spawning grounds to fishing during the spawn. On the outside is a spot that we would fish on our last day for trevally.




This is me getting off the plane followed by the welcome sign at Christmas Island International.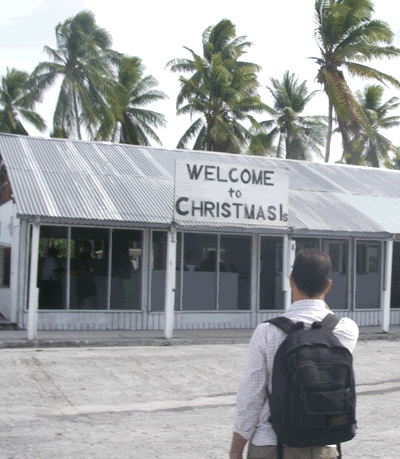 Our arrival on the island was not without incident. It turns out that the outfit we booked through had neglected to tell The Villages that we were coming. Once we cleared customs and bought our fishing licenses we exited the building and were confronted by a bunch of guides and trucks waiting to take anglers to their lodges. They asked us where we were staying and we told them The Villages to which they replied "They told us they had no guest this week". Great. Here we are in the middle of the Pacific and they don't even know we are coming and they don't expect any guest at all this week! The guides from Rick's Place were nice enough to give us a ride in the luggage truck and take us up to the Villages once they had dropped off their guests. The ride up was pretty entertaining. After nailing a speed bump and sending Steve and I and the luggage air born the driver stopped the truck and came around and told us he had forgotten something. He then opened a cooler and handed us each a beer and never even mentioned the speed bump. They've got their priorities straight down there. This is Steve with the previously forgotten beer and his hat knocked off from the speed bump.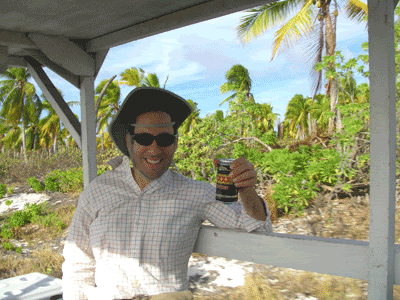 Once we finally arrived at The Villages and told them we were there for the week they were completely apologetic and exceedingly embarrassed that they had not been told we were coming. If you book a trip to the island I would recommend either booking with the primary booking agent for the lodge you choose or going through Leo as he can book any lodge on the island. The manager at The Villages is a great guy named Ki Tebetanga. Ki showed up and got our room straightened out, told us everything was going to be fine, told us that we would be the only two guest for the week (a great outcome for us!) and also told us that "The bar is open". With the rods ready, our gear unpacked and our room 100 feet from the water in a place that looks like paradise, we knew we were going to be in for a good week.




The boats at Christmas Island are over-sized outriggers with a 40 HP outboard strapped to the back. These boats take you to the flats to wade and have rod holders for trolling off shore.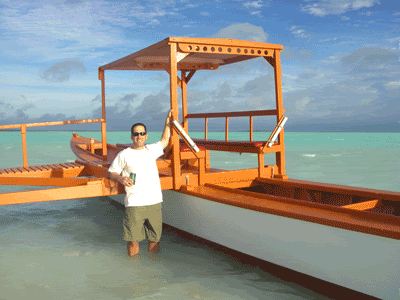 This is the first flat we fished. Steve and his guide are in the distance and, as you can see, the flat was amazing. The typical arrangement for Christmas Island is one guide per two anglers, but because it was our first trip and the cost of hiring a second guide was pretty nominal, we hired a second guide for the entire week. Seasoned veterans will typically fish by themselves having honed their fish spotting skills. Being rookies we were glad that we each had a guide each day as they spotted a lot of fish that we wouldn't have.




This is Steve with his first Christmas Island bonefish. Over the course of the week we would come to learn that this fish was pretty small, but even the smaller bones have amazing speed and strength.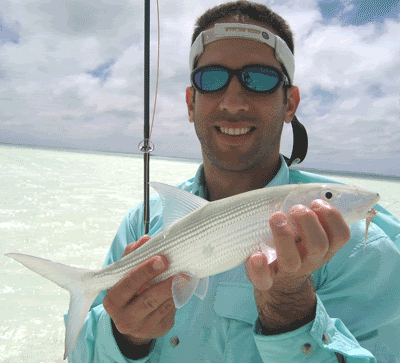 In the afternoon of the first day we fished a spot called the Y Site that had larger bones and more trevally.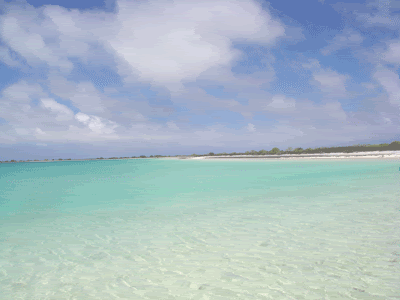 Because Steve is an avid off shore angler from Florida and he had heard that the tuna and wahoo fishing was pretty good off Christmas Island, we spent day two off shore. We headed out just as the sun was coming up over the lagoon.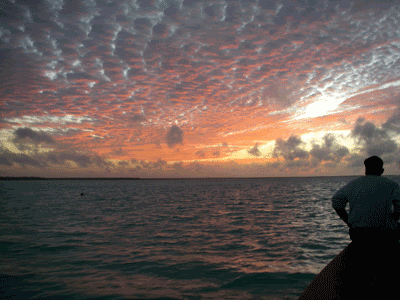 To get outside you go through the main channel and around the largest town on the island, London.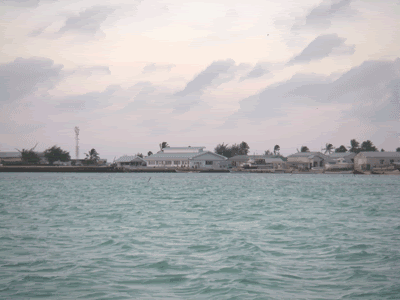 Once Steve had the trolling rods rigged it took about fifteen minutes for the first wahoo to hit.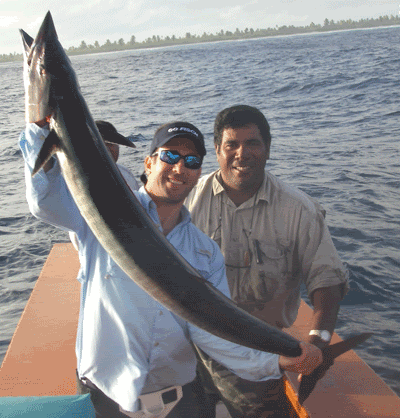 Shortly thereafter I landed this nice fish that bottomed out Steve's fifty pound scale.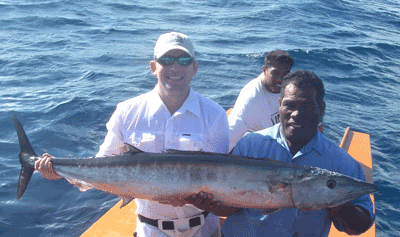 This picture is typical of our off shore experience. Steve is fighting a fish and guide Namiah is pointing to the other rod that is going off and dumping line. Most of our fish that day were doubles.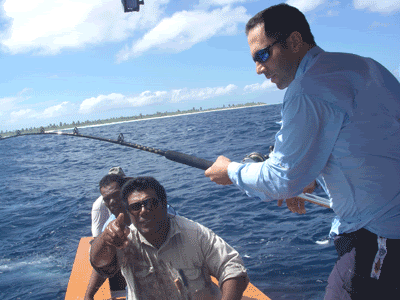 Mixed in with the wahoo we each caught a yellowfin tuna that would prove delicious.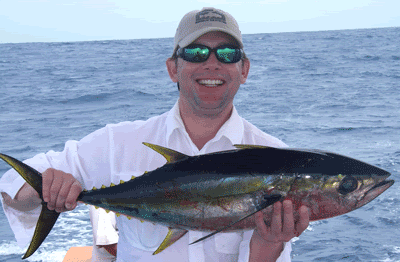 That day we landed 9 wahoo and two tuna. We lost another 14 wahoo mostly to bad hooks that Steve replaced. Once we replaced the hooks our ratio of hits to landings went way up, although some fish just couldn't be landed including the monster that inhaled a huge marauder lure and cut through 200 pound cable. The picture below is me, Steve and The Villages head guide Tenaki.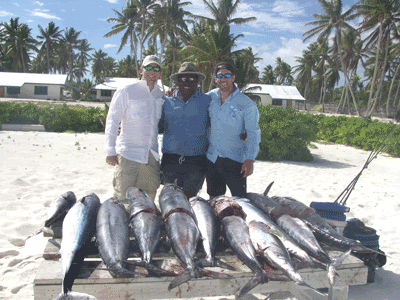 After the big marauder was lost this green rapalla became the hot lure. As you can see from the teeth marks, it saw some good action that day.




Steve with a plate of yellowfin sashimi. This fish was swimming just hours before. This was the best tuna sashimi that either of us had ever had. Although, perhaps because it is not available in sushi restaurants typically, the wahoo sashimi was even better.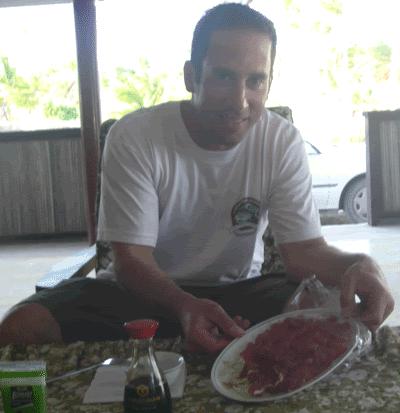 That night we feasted on tuna steaks, sashimi, wahoo prepared three different ways, giant clam and pacific lobster.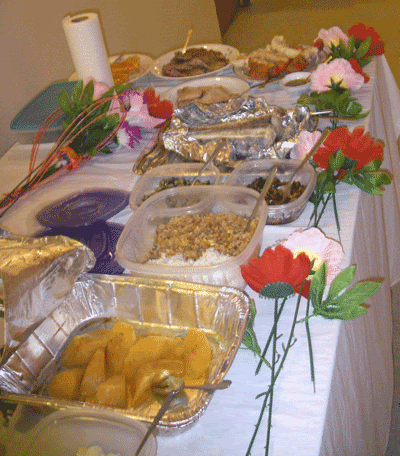 Our third day fishing was back on the flats. This is me and guide Namiah just after being dropped off. Moments later we would see a huge bluefin trevally cruising up the side of the flat that Namiah estimated at 60 lbs. I got a cast off but the big deceiver landed right on the fish and it moved off to deeper water. We tried splashing and slapping the water which sometimes will bring the trevally back, but this fish never showed up again.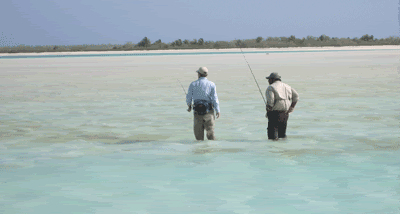 I caught and released well over twenty bones that day. Steve was fishing with Tenaki and they saw what Tenaki described as an eighty pound giant trevally up on the flat in skinny water. When the big GT's go up on the flat there is not enough water for them to swim upright so they sort of lean over with most of there back out of the water. Steve described the scene as if "Someone was driving a Volkswagen across the flat". Unfortunately Steve's fish followed right to him but wouldn't eat the fly. The fish probably couldn't have been landed because later that day Steve's 10wt TFO snapped while back casting, likely from a manufacturer's defect.

This is an underwater shot of one of the bonefish I released that day followed by a medium bone that I caught and a slightly larger one that Steve got.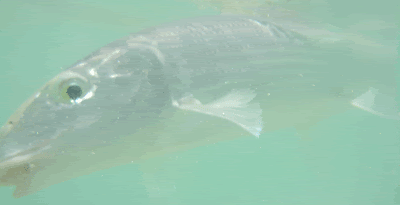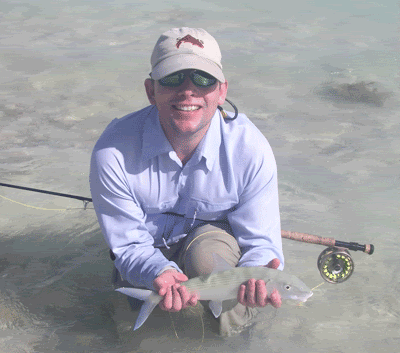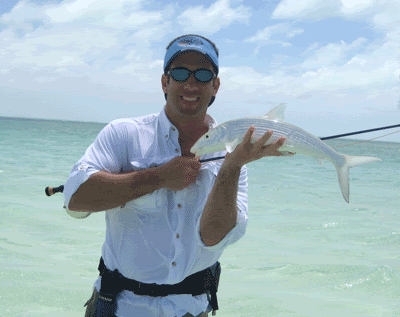 This is a pancake flat that we fished the third afternoon.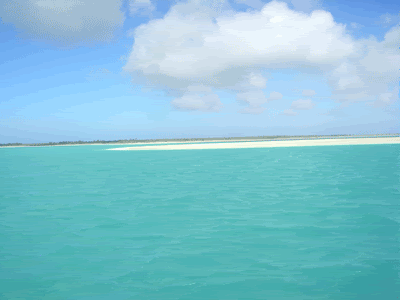 The fourth day because the off shore fishing had been so good on our last trip, we headed back out early. Unfortunately the spot we fished before was just too rough for the boat, so with safety in mind, we went around to the south to a spot known as Wahoo Alley.




This day would prove not to be as good as the earlier trip, but we landed a skipjack tuna, a wahoo, a few big barracuda and this decent black trevally.




We anchored the boat closer to shore for lunch and decided to see what we could catch on the bottom. That turned out to be grouper. Lots of them. So many that I caught two on one drop.




On our fifth day we made the long drive around the southern tip of the island to fish the Korean Wreck (the spot Leo said we should try to go to). The Korean Wreck was amazing. It is a flat on the ocean side that is about 100 yards wide and goes for miles and miles.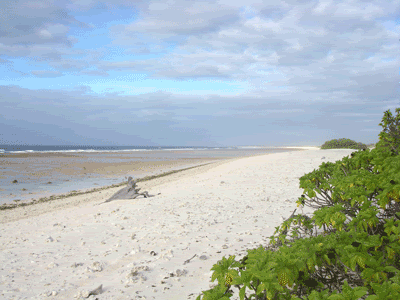 Steve with a nice bone at the Korean Wreck.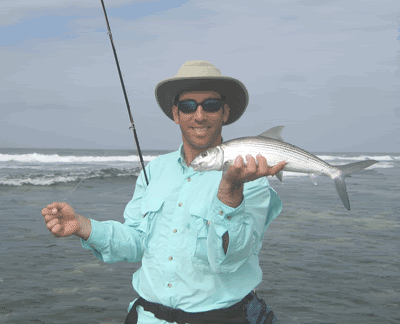 Me with a baby bluefin trevally.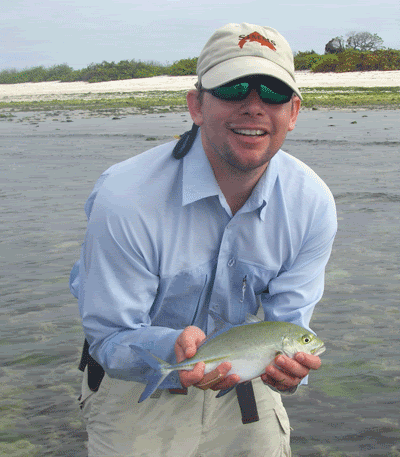 Me with a wrasse.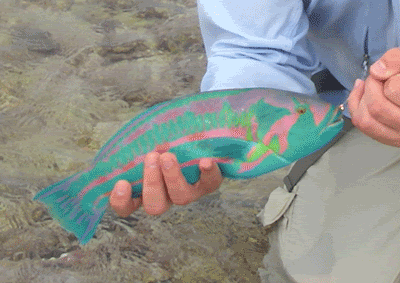 The flat at the Korean Wreck had a ton of bonefish but also a lot of different species. It also had quite a few giant clams that were embedded in the coral. A few of which our driver pried out and ate. We tried it. Steve liked it and claimed that it tasted sweet. I can't say I agreed.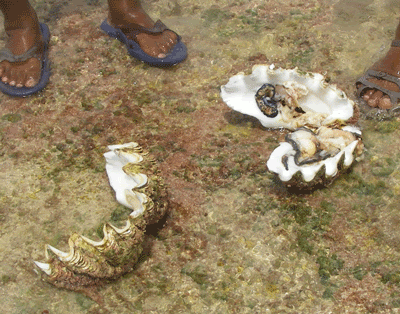 There were also a lot of blacktip sharks that pushed up in the shallow water to feed. These guys would swim right up to you.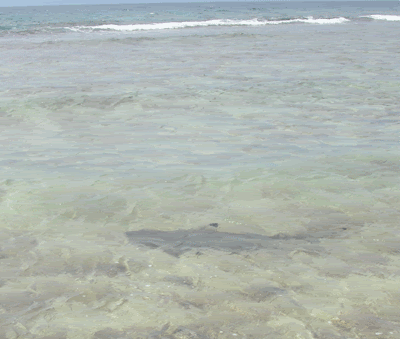 The Korean Wreck was also cool because we could wade nearby each other, versus the lagoon where we would we each fish a different flat. This is Steve wading just outside me with a fish on.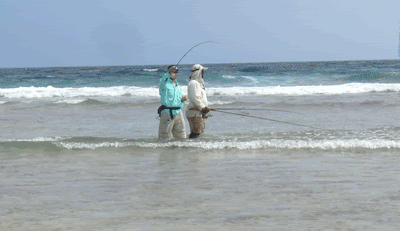 Moments later I had a fish on and Steve took this picture.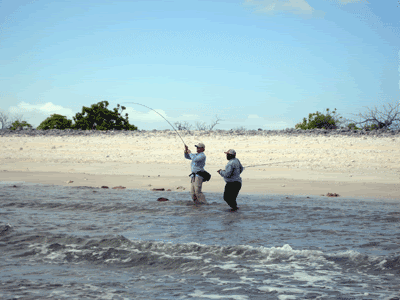 Steve with a sweet lips at the Korean Wreck.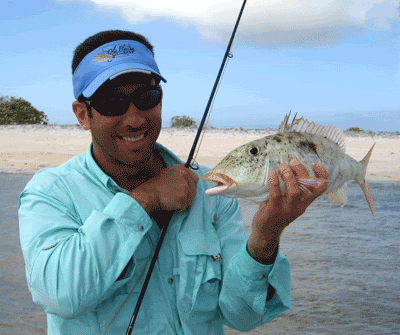 Steve and I after a great day. Lots of different species caught and a ton of bonefish.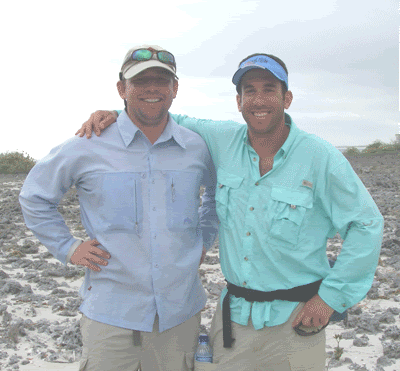 We had covered a lot ground that day and ended the day way north of where we started. We took a smaller, less established, track back across the island.




Both Steve and I straightened a few hooks on our bonefish flies that day. Steve's guide for the day, Iketi, claimed that the hooks were no good. I had tied the bonefish flies on Mustad 34007's because you can buy them in a pack of 100 for less than twenty bucks. If I had it to do over I would use higher quality hooks.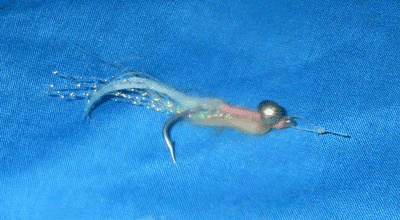 The last day we told the guides that we wanted to focus more on trevally than bonefish. I started the day by wading down a flat with quite a bit of coral that was bit deeper than the typical flat. We didn't see any trevally at first but there were plenty of bones and they were bigger than average because each fish ran into the backing at least twice. I don't know which flat I was on but I started calling it Two-Backing flat. Me with a fish from Two-Backing flat.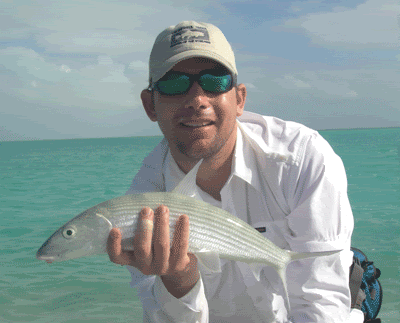 Once we had crossed the flat we waded the edge in waist deep water crunching across coral. This is when the trevally started to show. The first one I saw was pretty big and his back was out of the water. I tossed a deceiver to him and he inhaled it and took off peeling line from my 10 wt. Unfortunately this one came unbuttoned, but shortly after I spotted and caught the baby giant trevally.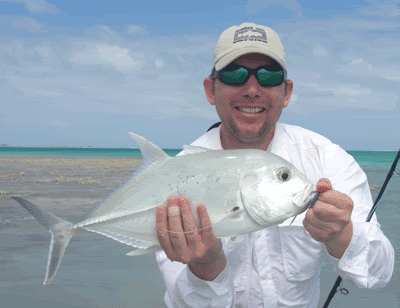 The baby GT was followed up by two blue fin trevally.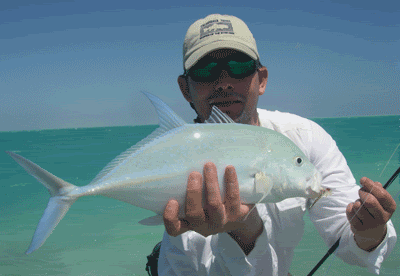 Twenty-some decent bones, a baby GT, two bluefin trevally and a bigger GT lost all before lunch. During lunch the guides decided to show us how to catch mantis shrimp. Mantis shrimp are part alien, part preying mantis and part lobster and the locals love to eat them. To catch them you drop a dead fish attach to a line into a likely looking hole in the flat. If there is a mantis shrimp home it will grab it with one of its long, razor sharp, spiked mantis claws. The guide then reached into the sand and grabbed the claw holding it into the fish. He then did the same for the second claw. Once he had safely had control of the claws he slowly pulled the mantis shrimp from the hole. When Tenaki pulled the first one out we were shocked at how big they were.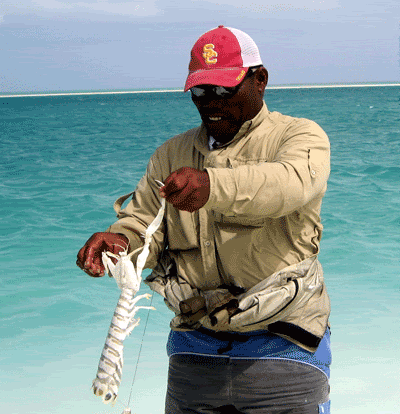 After lunch we hit the flats again and Steve and Tenaki went off to try to get a big GT for Steve. Shortly after getting on the flat we saw this guy coming toward us. He was about 50 feet away and traveling parallel to our path. I cast about 10 feet in front of him and 5 feet past and started stripping the big deceiver. He saw it, nailed it and took off. While I was fighting him a quickly realized that a GT much larger than this would be more than a 10wt could handle. This was my biggest GT of the trip but it was no where near as big as the 50-80 lb GT's that are caught at Christmas.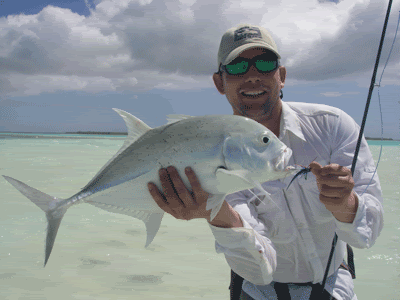 Following this GT I waded across a large sand flat and saw quite a few more bones, landing at least another ten. The boat then showed up and took us to a final spot to try to land a large GT. The spot below is the spot in the picture from the plane above.




When a school of trevally shows up on the edge of the flat utter chaos ensues. They rush in and tear around, sometime between you and the guide, and then take off just as quickly as they came in. Steve and I described it as trevally madness. They are in and out so fast that if you are not ready to cast with line out you have no chance of getting a fly in the water before they are gone. The fish below rushed in in a school of about ten and they were all around us. I didn't even cast, I just slapped the fly down with only leader out and this guy slammed it the second it landed.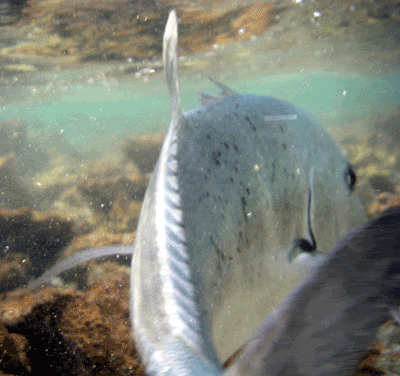 Steve and I had lugged along our snorkeling gear so we could get a look under water. We both decided that if we go back we would bring slings and do some spear fishing.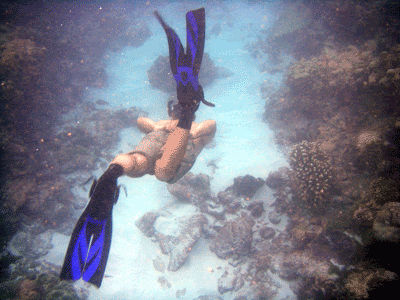 Later tat night we were served to of the mantis shrimp the guides had caught. Steve loved it but I couldn't get over the alien appearance so I didn't share in his enthusiasm.




Because it was our last night Tenaki took us to a bar in London to experience a little of the local scene. There were two locals, us, and this drawing of Mickey.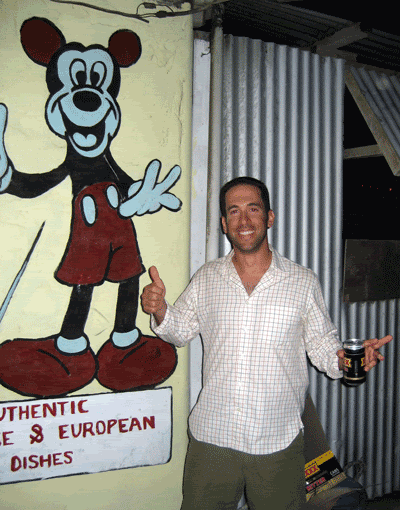 Definitely a great and memorable trip and a place I hope I get the chance to go back to--to catch a truly giant giant trevally.