As some of you know, I'm moving out of this great state of ours for a brief stint in NYC. Thanks to a supportive wife and a mess of free time I've been able to chase down some of my fly fishing goals this summer. The first was the Wyoming Cutt Slam which I posted about earlier.

The second has been trying to catch all of our native species here in CA. At this point I am 8 of 11, leaving out only the coastal cutt, eagle lake bow and warner redband. I've been skunked for both the warner and eagle fish after having made my way all the way to the waters in which they swim, which, if you know where they swim, you also know what a long trek it is to get there making the skunking all that much more painful.

Focusing on the more positive side of things, I recently took a solo journey down 395and around the south sierra's to fish for our more southern and eastern swimming native fish-the report of which I will now share.

The trip started here:


Where I was to fish in this valley, which was absolutely loaded with fish. I think the hookup ratio was in excess of 3 fish to 4 casts and I probably had 40 fish to hand in under 2 hours.

I fished Below this most important feature:

where out of all the fish landed, I managed two of these: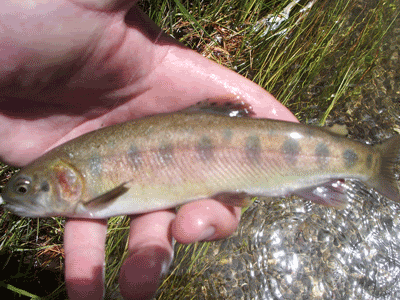 All in all the trip back in to this valley was pretty grueling involving about a 15 mile loop of hiking.

After hiking out I headed further south and up to Horseshoe Meadows and the Cottonwood Pass trailhead where I would embark on a 3 night solo backpacking trip covering somewhere around 35 miles. I started out by heading up over Cottonwood Pass and down into Big Whitney Meadows:

which is the home to the uppermost part of Golden Trout creek. Golden Trout creek was absolutely amazing. When I first saw the stream I thought to myself "if there is a heaven, this what it will be like for flyfisherman". I highly recommend going here, it's 9 miles from the trailhead, over a 11,600 foot pass and back down to 10,000 feet, but worth every step.

Suffice to say, the creek was adequately named:

From my camp here, I followed the stream south out of the meadow and through a faster section for about 5 miles. The creek in the faster section was pretty picturesque.I ultimately mdropped into the east end of tunnel meadows and home of the infamous golden trout creek - south kern tunnel. All that is left of the tunnel is a depression in the ridge that seperates the two stream. I thought people might like to see what is left: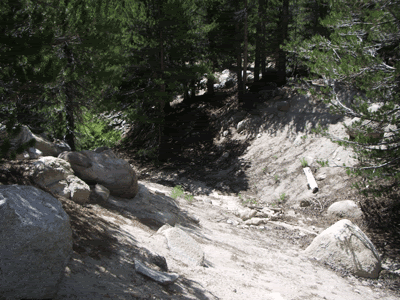 From here I headed east toward the Kern on my way here: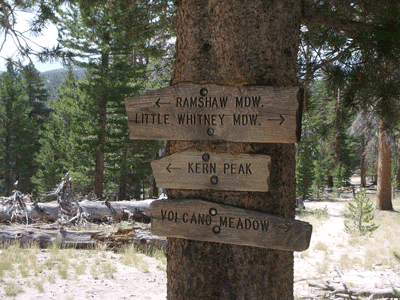 This is supposed to be the home of the most genetically pure goldens left:

My original plan was to continue to the kern and head across the wilderness, but being solo I cut it short and headed back east across tunnel meadows to fish the very headwater of the South Fork of the Kern river. There were many goldens here as well, although they seemed to have more spots than the GTC and Volcanoe fish. After another night I hiked out of the wilderness the following day amid violent lightning storms via trail pass where I found my car intact and quickly drove to Lone Pine to eat an entire pizza.

The final leg of my quest involved a hike into the forks to fish the main kern. Where I would follow the river trail and head up and over Doe Meadow to connect to the Little Kern, cross the bridge and follow a trail up and out along one of the tribs. The kern was high due to the lightning storms I had experienced a few days before, and fishing was indeed tough. I managed this fish and a few others by stripping floatent-coated birds nests slowly along seams. This was the only way I could seem to pick up fish in the murky water.

One thing to note about the kern canyon, is that there are many things there that do no exist at higher elevations, so be careful where you put your hands. For example there was this guy, that I nearly stepped on:

and the SEVEN of these suckers that crawled out of our fire pit:

Anyways, from the kern we hiked up and over to the little kern and out, managing to catch some of these beautiful little guys: