I spent the weekend up on the Trinity with a couple friends. We fished exclusively by wading. On Saturday we fished downstream of Douglas city in the morning and saw quite a few steelies and salmon moving through, but no hookups. We moved a little upstream and fished a great looking run that had a ton of fish rolling. I hooked this nice wild fish.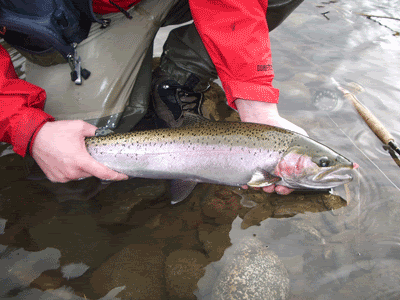 We did not catch any more fish in the run but did see another angler catch two bright fish.

The next day we fished a few different holes. In the morning my buddy Adam hooked a big fish but it shook the hook after a nice aerial display. We moved again and I high sticked a half pounder out from behind a rock.

Finally we drove to the final run of the weekend and had a great looking spot to ourselves. Fish were everywhere. Adam hooked four but they were all a bit too hot to be landed. I hooked a BIG fish on an egg pattern that must have been a salmon. It never jumped or ran too hard, it just sort of bull dogged down deep and took line at will. I had broken my steelhead rod the previous day and was using a 5wt with 3x on the dropper. After about 5 minutes of battle my knot to the dropper fly broke. It would have been nice to land him, but at least I have this picture from the fight.


Adam in the same hole setting the hook.